If you want to stay in Himeji for a long time!
If you want to leave my parents' house for a while!
Short term business trip to Himeji! etc….
588 Guesthouse also offers share houses for long-term residents at a reasonable price. (Private room and kitchen are available for cooking. Please feel free to ask.
——————————–
Sharehouse168(シェアハウスいろは)It is a modern house. Easy access to Himeji Castle and drinking area. 5 minutes by bicycle from Himeji Station.
→→for more detail, click here!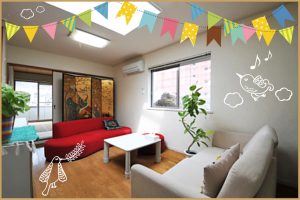 シェアハウス野里月庭(Nozato Moon Terrace)…A town with a charming atmosphere where machiya townhouses remain. It is northeast of Himeji Castle. It is a unique town where many interesting restaurants have recently appeared one after another. The rooms are spacious Japanese-style rooms.
→→for more detail,click here!