If you come to Himeji, there is something you must try.
Do you know what that is?
It is Almond butter toast!!!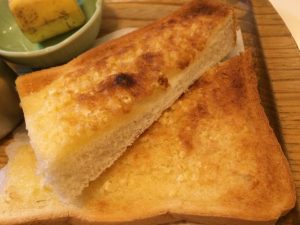 Almond butter toast is specialty in Himeji that has been loved for over 50 years.
It's so unique that each café has a different taste.
Originally, about 50 years ago, a coffee wholesaler was considering a side menu to increase sales.
They directed their attention to peanut butter that was popular in the U.S. at the time. It's not clear why almonds replaced with peanuts, but the wholesaler intended to sell it in a container as "almond butter". However, it was technically difficult to fill almonds and margarine automatically, so they sold ingredients to each café and asked them to make with that quantity.
Each café then started to make their own arrangements, such as adding more sugar, café au lait, and so on.
That's why each café has a different taste today. It seems that people here didn't know that almond butter was only available in this region.